NEWS
---
Press

The Studio Visit
Maia Cruz Palileo
by Isabel Manalo
June 11, 2018

Visual artist, Isabel Manalo, recently came to my studio for a visit, which is the topic of this article. She will be
organizing a solo show of my work at the Katzen Arts Center at the American University in Washington D.C. in July, 2019.
link
---
Press



Art Forum
Critic's Picks
by Cora Fisher
June 4, 2018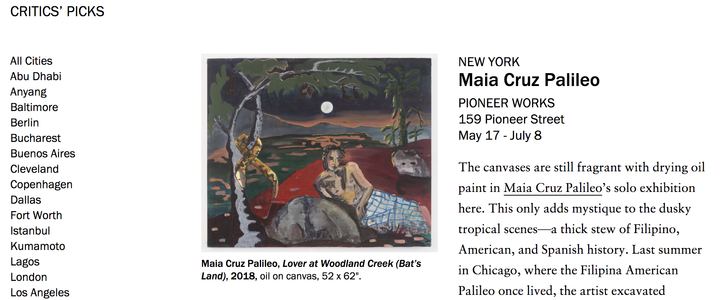 "The tropical gothic, a term coined by the Filipino literary master Nick Joaquin, is an aesthetic built on the ruins of a tribal civilization first colonized by the Spanish, then by the United States. It is a mood and a metaphor ripe for Palileo's paintings, redolent with history but not beholden to it. The artist's figures, emancipated from their source material, now look back at us as part of her decolonized imagination."

link
---
Press



Financial Times
Beautiful imagery from an ugly past: Maia Cruz Palileo, Pioneer Works, Brooklyn
by Ariella Budick
May 25, 2018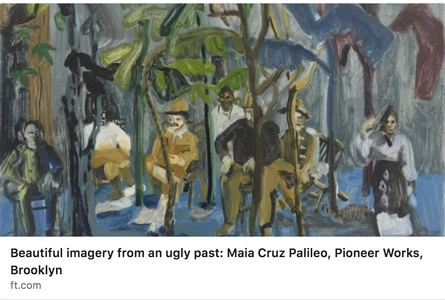 "Palileo invokes pre-colonial folkloric beliefs as an antidote to western paternalism. Her characters protect themselves with amulets and animals, night-time rituals and incantations. The nightmare of empire runs through her work, but it's just one note in a rich harmony of topics...Palileo reminds us that every era has its forms of tragic shallowness, its misunderstandings and convoluted mythologies, inexplicable from a distance. At the same time, she whirls together past and present in concoctions of luxuriant, irresistible beauty."

link
---
Press
All Arts: WLIW New York Public Media
Ancestral Stories: Maia Cruz Palileo at Pioneer Works
By Sarah Kricheff
May 18, 2018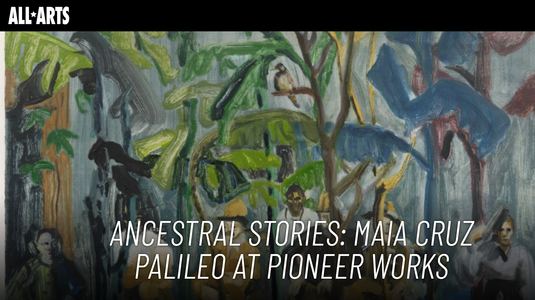 "Palileo's paintings, on the other hand, are otherworldly. As a way to reclaim the narrative of the exploited, the Filipino-American artist singled out people, animals and objects from the original photographs and placed them in dreamy, mystical settings painted in deeply saturated blues, greens, yellows and reds. The works feel sleepy, thick and transportive, and an element of magic realism persists."
link
CURRENT EXHIBITIONS
---
Solo Exhibition
Meandering Curves of a Creek
May 17 - July 8, 2018
OPENING RECEPTION: MAY 17, 7 - 9 pm
Pioneer Works / 159 Pioneer Street / Brooklyn, NY
Public Programming:
(Re)Drawing Histories: Class at Pioneer Works, Thursdays June 7, 14, 21
Gallery Tour / Exhibition Walkthrough: Sunday, June 10, 3-4pm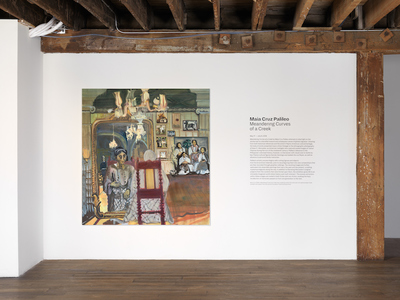 Meandering Curves of a Creek is Maia Cruz Palileo's first solo institutional exhibition, comprised of a selection of recent paintings and drawings that continue the artist's ongoing exploration of her personal identity, cultural heritage and feelings of multiplicity as a Filipino-American. This body of work traces a direct lineage to the ethnographic photographs of Dean C. Worcester, an American zoologist turned Secretary of the Interior who traveled to the Philippines at the turn of the nineteenth century. Palileo unearthed Worcester's dehumanizing images in Chicago's Newberry Library during the summer of 2017, and in turn used these photographs as a point of creative departure for transposing a bygone past into an intimately imagined world where history, myth, and superstition intersect.

Meandering Curves of a Creek is part of a special project made possible with support from the Jerome Foundation Travel and Study Grant.

---
Group Exhibition
Face of the Future
February 2 - November 4, 2018
Opening Celebration: Friday, February 23, 6-10 pm
The Rubin Museum / 150 West 17th Street / New York, NY

Public Programming:
Cabaret Cinema: Face of the Future: Friday, June 22, 9:30 -11:30 pm
I will be introducing the film Barbarella (1968) as part Cabaret Cinema. buy tickets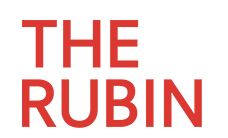 Face of the Future
Through November 4 in the Theatre Level
For Face of the Future, Chitra Ganesh reimagines how visual languages of science fiction and fantasy take shape and proliferate around the world in print culture, literature, and cinema. In addition to showcasing her own new works on paper and collage-based pieces, Ganesh has invited seven emerging artists—Maia Cruz Palileo, Nontsikelelo Mutiti, Tammy Nguyen, Jagdeep Raina, Sahana Ramakrishnan, Anuj Shrestha, and Tuesday Smillie—to expand and redefine the aesthetics of science fiction by creating posters that refer to a group of important, influential films largely outside the Western canon.

Curated by Beth Citron.
link
---
Group Exhibition
Cast of Characters
June 14 - September 16, 2018
LGBT Community Center / 201 W 13th Street / New York, NY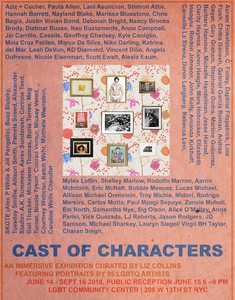 Cast of Characters is an immersive exhibition curated by Liz Collins featuring portraits by 95 LGBTQ artists.

link
PRESS
---
Press

Hyperallergic
Your Concise New York Art Guide for Spring 2018
Your list of 45 must-see, fun, insightful, and very New York art events this season.
​February 18, 2018

Meandering Curves of a Creek was feaetured in Hyperallergic's New York Guide for Spring 2018 as one of 45 must-see art events this season.
link
---
Publication
New American Paintings
Northeast Issue #134
Feb/March 2018
My work was included in the current issue of New American Paintings, Northeast Issue #134.

Buy the issue
here
.
---
Podcast
Magic Praxis
Episode 12: Chitra Ganesh with Maia Cruz Palileo
March 2018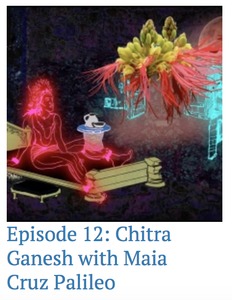 Episode 12: Chitra Ganesh with Maia Cruz Palileo
Chitra Ganesh
is a multi-disciplinary artist working with myth, storytelling and symbols. Guest host Maia Cruz Palileo, also a multi-disciplinary artist, was mentored by Ganesh in the
Queer Art Mentorship program
. During a visit to Ganesh's studio in DUMBO, Brooklyn, the artists discuss her exhibition "The Scorpion Gesture" at the Rubin Museum, a series of motion-activated animations which engage with the permanent collection of Himalayan art. The show includes a second part, "Face of the Future", in which Ganesh invited seven emerging artists, including Palileo, to contribute work relating to science fiction and the future.
Listen
---
Publication
World Literature Today
March - April 2018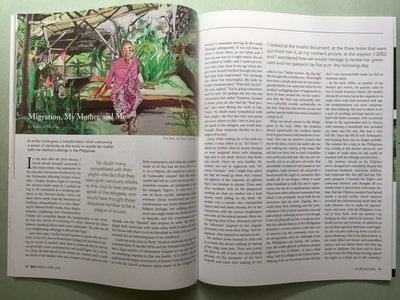 Artwork featured in Special Section, Philippine-American Lit, Guest-edited by Joseph O. Legaspi. The magazine is available for purchase via the WLT website.
link
World Literature Today Blog
Check out the WLT blog entry, "Migration, Home, and History Through the Eyes of Philippine-American Artists" by Jen Rickard Blair to read more about the visual artists featured in the magazine
link
---
Publication
Brask Studio Visits III
December 2017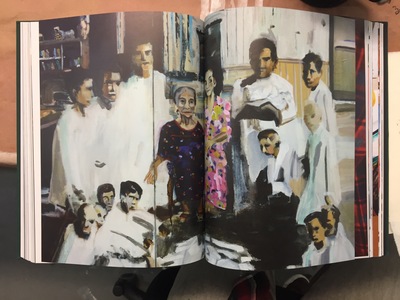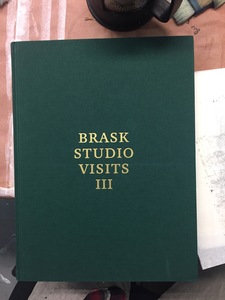 Brask Studio Visits III is the third in the series of books. In the book, art collector Jens Peter Brask visits 34 international artists in their studios. The book features among others Daze, Todd James, Baron André, Rose Eken, Gun Gordillo, Reginald Sylvester II, Rashid Johnson and Lars Christensen. It is the perfect coffee table book for any art lover.

Specifications - Format: Hardcover. 269 pages. 32,5 x 24,5 cm. Language: English. Limited to 1.200 copies.
link
---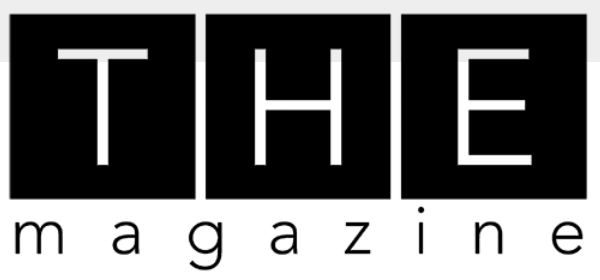 Press
Review: The Alchemical Trace
by Jenn Shapland
November 2017
link
---

Press
FOR US BY US
by Shira Levine
June 2017
---

Press
PORTRAIT OF THE ARTIST: GENERATIONAL JUXTAPOSITION
by Noelani Kirschner
June 19, 2017
link
---


News
2017 Travel and Study Program Grantee
Maia was recently awarded a Travel and Study Program Grant from the Jerome Foundation. She will live and study in Chicago, IL to study the Dean C. Worcester Collection of Philippine Photographs, Damián Domingo's Costume Album, and the book "El folk-lore Filipino" by Isabelo de los Reyes y Florentino in the Newberry Library's extensive Philippine Collection—images from the early years of imperial American conquest of Filipinos.
link
---

Press
KIMO NELSON AND MAIA CRUZ PALILEO
by Janna Añonuevo Langholz
May 2017
link
---

Press
PERMEABLE NARRATIVES AND LANDSCAPES OF HOME: AN INTERVIEW WITH MAIA CRUZ PALILEO
by Danni Shen
March 9, 2016
link
---

Press
STORIES FROM HOME
by Jack Teotico
March 2016
link
---

Press
DON'T FORGET US: AN INTERVIEW WITH MAIA CRUZ PALILEO
by JoYin Shih
March 31, 2015
link
---

Press
5 BROOKLYN ARTISTS YOU NEED TO KNOW
by Paul D'Agostino
March 25, 2015
link
---

Press
INSIDE THE ARTIST'S STUDIO
by Kristin Iversen
March 16, 2015
link
---


Press
PAINT A PHOTO'S STORY
by Tanya Silverman
January 27, 2015
link
---

Press
LOST LOOKING
by Dan Piepenbring
January 27, 2015
link
---

Press
SUPPORT FROM A LOVE SPRITE AND SOME FRACTURED FRIENDS
by Andy Webster
October 9, 2011
link
RECENT EXHIBITIONS
---
Group Exhibition
February 2 - March 28, 2018
Queering Space
Opening Reception: Friday, February 2, 6-9 pm
Fosdick-Nelson Gallery at Alfred University / 2 Pine Street / Alfred, NY
---
​Group Exhibition
October 6th-November 3rd, 2017
The Alchemical Trace: Transformation and Resilience in Recent Work by LGBTQAI Artists
Curated by Ray Hernández-Durán
Sanitary Tortilla Factory
401-403 2nd St SW
Albuquerque, NM 87102
---
Artists on Art Tour
September 1 and October 13, 2017 at 4:30 pm
Artists on Art Tour at Olana State Historic Site
I was invited by Olana to give an Artist on Art Tour of the exhibit Overlook, Teresita Fernández confronts Frederic Church at Olana. My tour will consider American values and their roots in manifest destiny, the construction of race, and how ethnography and anthropology were developed as a strategy to justify violence toward the indigenous population and people who were enslaved in the United States during the not so distant 19th century. These justifications carried over into westward expansion of Asia, when America colonized the Philippines at the turn of the 20th century.
---